Xylophone Index Page
This project page is about building a xylophone. Here is a picture of the xylophone project that is described in gory detail in the posts below.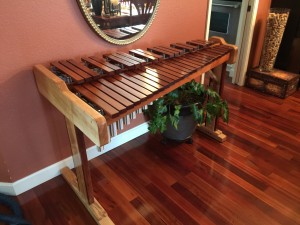 I made this main xylophone page to augment the many blog posts on this site, because I sometimes find that it is easy to get lost on blog sites when trying to step through a subject that is linear, and therefore might be better described by chapters. So the list below will hopefully help you to navigate through the xylophone project. The idea is that you can look at any "chapter" and then use the browser back button to return to this index. The first post, "Overview," contains some photos and sound files.
May 2017
Lily just finished a paper and video describing the xylophone for her high school physics project. This is a nice introduction that you might enjoy. Check it out here.
The Index
Again, these are just a series of links to the discrete posts, but you can think of them as chapters that may help you to navigate our xylophone adventure!
(Note: Jack made the animated gif at the top of the page using Blender, an open-source photo-realistic rendering application that he has been messing around with lately. Pretty cool!)